Remember when Ninja Warrior and Wipe Out were your favourite shows? I was always obsessed with how fun the entire obstacle course looked. Seeing contestants in crazy costumes was definitely a bonus. It was basically a playground for adults.
When I first knew about the Battle Bay Extreme (BBE) that's happening at Marina Regatta this year, my inner child was awoken. My favourite television series is being recreated and brought to life on our own home ground. However, my excitement was short lived. Despite my adamant objection, my bosses assumed I was expressing interest in trying the course – all because I found these obstacle courses cool.
I was literally sabo-ed as tribute to conquer Singapore's equivalent of Ninja Warrior – Battle Bay Extreme (BBE). The most extreme thing I've ever done during my time on Earth was finish half a bottle of whisky at 15 years old, but as a measly intern, it had to be me. (Lol jk, I love my job.)
I was sent to TripleFit Singapore, where I met with Coach Faz to train for the obstacle course ahead of time. It'll be an interesting article, they said. It'll be fun, they said.
"Are you ready?"
When Coach Faz asked if I was ready, I nodded. If only he (and my bosses) knew that I was only mentally prepared. And if only they knew I almost failed my NAPFA test 5 years ago. Even then, I was way more prepared for NAPFA than this training with Faz. For a moment, I considered feigning a stomachache, but I remembered I needed my job.
We started with what was supposed to be a simple warm-up/cardio session, but by the end of it I was breathless, swaying, and had slight tunnel vision. I could see Faz looking concerned at whether I could keep up. He also had a look of satisfaction – this trainer was determined not to short change me of the 'full experience'. I knew I wasn't going to get any sympathy.
Then again, what did I expect from a man with biceps the size of my thighs; how could he understand what weakness meant?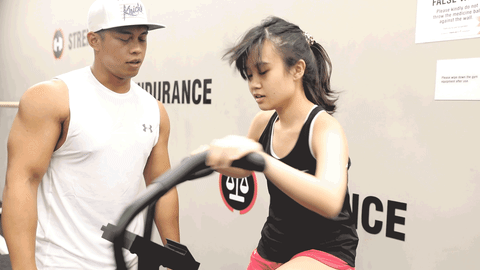 Once I caught my breath, Faz ran me through various exercises in preparation for level 2 of BBE's obstacle course. We started with the 4-foot hurdle and a 6-foot wall.
As a self-proclaimed tiny person, I have climbed many walls and jumped high enough to reach the top shelf at supermarkets. The approximately 1.2m high hurdle and 1.8m wall had nothing on me.
In fact, my 1.55m stature was also beneficial for the Crawl Under. The actual set up is a little higher and wider, but Faz lives by the saying, "prepare for the worst". I wiggled through the mini metal hurdles like a pro – it was a wiggle I dare say Jason Derulo would be proud of.
I think the periodic sprints for the last bus on Friday nights seemed to have helped with my fitness levels. That was the only reason I had aced the stations thus far.
A minute later I realised that I had spoken too soon. The easy part had just ended, and we were now entering obstacle course hell. Sure, I could have thrown in the towel but I was already too invested to quit. Also, I was worried about the potential wrath awaiting me in the office.
The next 3 exercises required upper body strength which I lack. In fact, what Faz calls a triceps, I affectionately call the UADD (under arm dingle dangle).
A few rounds on the Monkey Bars wore me out but it was the Farmer Walk (24kg) that would prove to be near impossible. My attempts to convince Faz that 24kg should be split between both arms were futile. It was apparent that Faz was not going to let me have my way – as always, he reminds me to prepare for the worst. I rolled my eyes.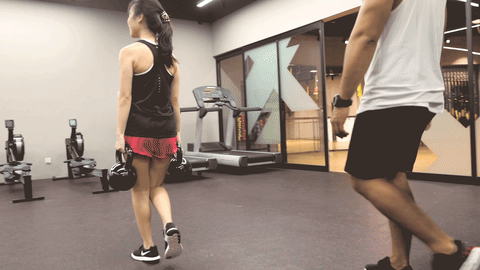 I waddled back and forth, carrying 18kg on each side (he settled because I literally couldn't lift 24kg with 1 arm). Every time I finished a lap, he told me to go "one last time" – lies.
One water break later, I was back at it again.
Sweat dripping, arms trembling and a head full of curse words – the Dips Walk was my biggest challenge. If this was the real obstacle course, I would have tapped out right there.
This was my biggest failure of the day and Faz's biggest disappointment. Clearly he was as emotionally invested in this challenge as I was.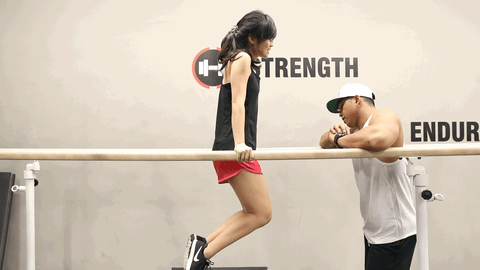 I was told with much certainty by Faz that the Tyre Flip was simple, but I doubted it. Even though TripleFit only had a 60kg tyre which is 40kg lighter than the actual one in Battle Bay Extreme, it was still much bigger and heavier than me. In fact, I could live comfortably in its large hollow centre – a safe place where I would be spared from the searing muscle aches from the countless obstacles.
Though hopelessness and despair had already set in, I took a strong stand against the dreaded tyre. Much to my surprise, the Tyre Flip was one of the easiest things I did that day. In this case, size really doesn't matter, technique is all you need.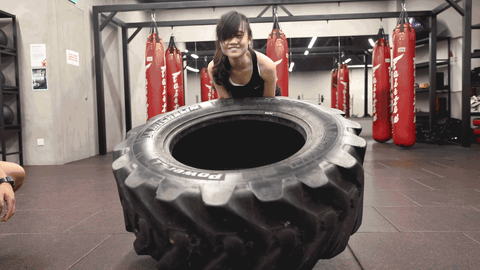 The last task of the day wasn't as easy, but it satisfied my morbid sense of humour. The Sandbag Throw felt like a scene from Crime Watch considering that 25kg is probably equivalent to an 8-year-old's deadweight (don't ask me how I know).
Now my friends know they can count on me to help them get away with murder – Annalise Keating would be proud. In fact, Faz looked quite proud too.
"The police are coming, get rid of the body," I thought to myself as I hauled the sandbag over my shoulder again. My imagination spurring my aching muscles on.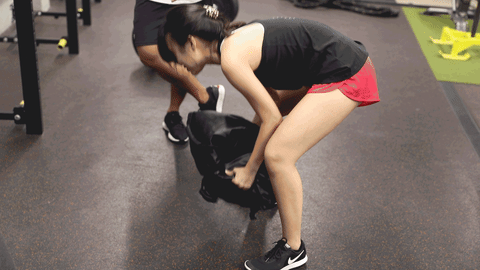 Getting rid of 5 carcasses was a great way to end this workout.
Would I survive the actual course at Marina Regatta?
Thanks to Faz, I am well and truly prepared for the worst. As a chronically unfit person, I wouldn't survive level 2 of Battle Bay Extreme, but the Level 1 Battle Bay water course shouldn't be a problem.
You don't have to wait for your bosses to force you into it, you can find out more about Battle Bay Extreme here. Online registrations for Battle Bay Extreme closes on 16 May but don't worry if you miss it because you can still sign up on the spot during event days!
To my fellow unfit homo sapiens, there are many activities that aren't as physically demanding at DBS Marina Regatta; including sustainability and wellness workshops, as well as free yoga classes.
The DBS Marina Regatta is happening on 26-27 May & 2-3 June at the [email protected] Bay.
My aching body and this post are brought to you by DBS and TripleFit.
*Faz is actually a really nice guy.